15 Must have Lists to Keep your Homeschool Organised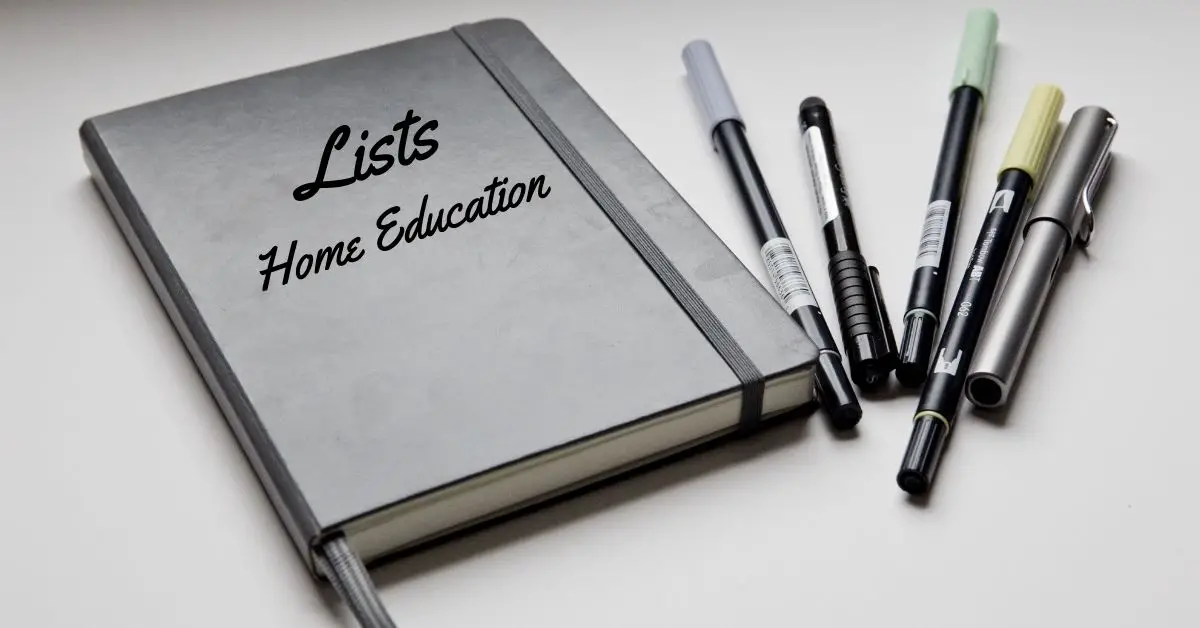 Different lists to keep your homeschool organised are essential to our everyday success as home educators.   As Home Educating parents we have a lot of balls to juggle with home life and keeping your homeschool organised with these lists will help to at least make home educating your children easier.  Having everything that you may need together in lists will eliminate the constant battle of wondering where something is or questioning if we have xyz to complete a science project.  They can also offer encouragement and ideas for things to do with your children.
Lists to Keep Your Homeschool Organised
A Curriculum List – This is a great way to stay on track and ensure you are covering all the key areas of learning for your children. 
A Supplies List – From textbooks to art supplies, make sure you have everything you need to homeschool successfully with this handy list.  Have all the materials you need for homeschooling on hand so that you're never caught unprepared. I like to write down things such as items needed for science experiments that we will be doing. If I need to print something out I will write it on this list and tick it when I have printed it.  This is an essential list in our homeschool..
A Schedule – This will help you to make the most of your time and avoid feeling overwhelmed. This does not have to be a full schedule of what you will do each minute of everyday.  I like to have a monthly schedule on which I can write down any regular activities, planned days out, appointments and anything else that crops up.  This way it is easier to see what time you have available for the regular homeschooling stuff.
A Reading List – Keep track of all the books you want to read with your kids, both for school and for pleasure. I also make a note as to whether we own the book that we wish to use, need to borrow from the library or if we wish to purchase the book.
A Links List – Collect all the best websites, YouTube channels and online resources in one place so that you can easily find them when you need them.  Easiest way to do this is with a spreadsheet.  I use google sheets, one because it is free and two because it is so easy to access from any of my online devices.
A Field Trip List – Learning doesn't have to be limited to the four walls of your home! Get out and explore with these field trip ideas that will complement your homeschool lessons perfectly. Plan fun outings and educational experiences for your family to enjoy together. 
A Recap List – Each day, jot down a few things that you accomplished during homeschooling, so that you can look back on your progress over time. 
A Wish List – Use this as a brainstorming tool to come up with ideas for new topics or activities that you'd like to try out with your kids. Get your children involved with the brainstorming as you can sometimes be amazed by what your kids would really like to learn about.
An Encouragement List – Record any positive comments or feedback from friends, family, or other homeschoolers to keep yourself motivated.  Some days, when you feel overwhelmed by everything and nothing seems to be going to plan, reading this list gives me encouragement that home education is worthwhile and it is working for our family.
List of Curriculum Options: Finding the right curriculum is vital to homeschooling success. This list will help you evaluate and compare options to find the best fit for your family. With this list when you are planning your curriculum you can keep everything together.  Make a note of the name of the curriculum, where to purchase, what subject it covers and most importantly the cost.
List of Homeschool Styles: Not sure what homeschooling style will work best for your family? This list will help you explore the different options and find the one that's right for you. 
List of Tips for New Homeschoolers: Looking for some inspiration?  Keep a list of tips from experienced home educators to look at when you need a lift.
List of Reasons to Homeschool: Are you on the fence about whether or not to homeschool? Write yourself a list of benefits that might just be what convinces you to take the plunge! 
List of Social Activities for Homeschoolers: Socialisation is an important part of childhood development, and homeschoolers can have just as much fun (and make just as many friends!) as kids who go to traditional schools. Find out about different activities and trips for home educators in your area and keep a list of what is happening.  
I hope that these lists have given you some ideas for how to organise your home education with your family.  Don't forget that you can keep a list of just about anything if it will help you.