Cooking With Kids: Simple And Delicious Recipes For Home Educating Families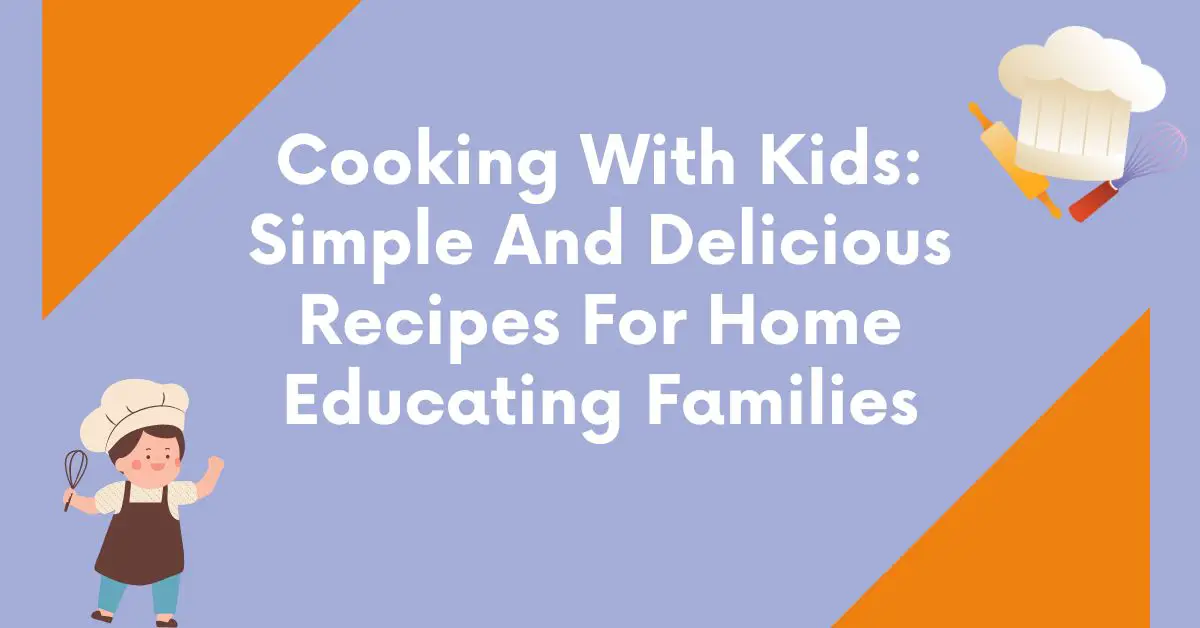 Welcome to the world of cooking with kids! Cooking is a fun and educational activity that can help children learn important life skills, such as following directions, measuring ingredients, and help them to develop an appreciation for healthy and delicious food.  Not to mention, cooking with kids can also create some of the most cherished family memories that will last a lifetime. In this article, we will provide you with some simple and delicious recipes that you can try with your kids.
Cooking with kids can be a lot of fun! It provides an opportunity for families to bond and create special memories together. Whether you're baking cookies, making pizza, or whipping up a batch of pancakes, cooking with kids is a great way to spend quality time together.
In this article, we will provide you with four simple and delicious recipes that you can make with your kids. Each recipe is designed to be easy to follow and understand, and can be completed with minimal equipment and ingredients. So, whether you're an experienced chef or a beginner in the kitchen, these recipes are sure to be a hit with your family.
So, grab your aprons and get ready to have some fun in the kitchen! 
Recipe 1: Easy Pancakes
Making pancakes is a great way to introduce children to the kitchen and teach them valuable cooking skills. This recipe is simple and easy to follow, and can be completed with minimal equipment and ingredients.
Ingredients:
200gm (1 cup) all-purpose flour
2 tbsp sugar
2 tsp baking powder
1/4 tsp salt
250 ml (1 cup) milk
1 egg
2 tbsp vegetable oil
Butter or cooking spray, for the pan
Instructions:
In a large mixing bowl, whisk together the flour, sugar, baking powder, and salt.
In a separate bowl, beat the egg and mix in the milk and vegetable oil.
Pour the wet ingredients into the dry ingredients and stir until just combined. It's okay if there are a few lumps in the batter.
Heat a large non-stick pan over medium-high heat. Add a small amount of butter or cooking spray to the pan.
Use a ladle or measuring cup to pour the pancake batter into the pan. Cook until the edges begin to dry and the surface is covered in bubbles, then flip and cook for another 1-2 minutes on the other side.
Repeat until all the batter has been used. You can keep the pancakes warm in a low-temperature oven until you're ready to serve.
Variations:
For a fun twist, try adding chocolate chips or blueberries to the pancake batter before cooking.
Top the pancakes with your favorite fruits, whipped cream, or syrup for a delicious breakfast treat.
Recipe 2: Pizza Bagels
Pizza is a classic family favorite, but it can be time-consuming and difficult to make from scratch. This recipe for pizza bagels is a quick and easy alternative that your homeschooling children will love! Plus, it's a great way to teach them about portion control and healthy eating habits.
Ingredients:
4 plain bagels, sliced in half
125ml tomato sauce or pizza sauce
200gm shredded mozzarella cheese
Your choice of pizza toppings, such as pepperoni, sausage, mushrooms, or peppers
Instructions:
Preheat the oven to 375°F (190°C).
Lay the bagel halves out on a baking sheet.
Spread 1-2 tablespoons of tomato or pizza sauce onto each bagel half.
Sprinkle a small handful of shredded mozzarella cheese onto each bagel half.
Add your desired pizza toppings onto each bagel half.
Bake in the preheated oven for 10-12 minutes, or until the cheese is melted and bubbly.
Let the pizza bagels cool for a few minutes before serving.
Variations:
For a healthier twist, use whole wheat bagels and load up on veggie toppings.
Try using different types of cheese, such as cheddar or provolone, for a unique flavor.
Let your children get creative with their own pizza toppings and create their own personalized pizza bagels.
Recipe 3: Veggie Quesadillas
If you're looking for a quick and healthy lunch or dinner option, veggie quesadillas are the perfect choice! They are easy to make, delicious, and packed with nutrients that are essential for growing children. Plus, you can customize the ingredients to suit your family's preferences.
Ingredients:
4 whole wheat tortillas
200 gm shredded cheddar cheese
200 gm chopped veggies of your choice (such as bell peppers, onions, mushrooms, or spinach)
1 tablespoon olive oil
Optional toppings: salsa, guacamole, or sour cream
Instructions:
Heat the olive oil in a large pan over medium heat.
Add the chopped veggies to the pan and cook for 3-5 minutes, or until they are tender.
Remove the veggies from the pan and set aside.
In the same pan, lay one tortilla flat and sprinkle a layer of shredded cheese over one half of the tortilla.
Add a layer of cooked veggies on top of the cheese.
Fold the tortilla in half, pressing down gently.
Cook the quesadilla in the pan for 2-3 minutes on each side, or until the cheese is melted and the tortilla is crispy.
Repeat steps 4-7 with the remaining tortillas and ingredients.
Cut the quesadillas into quarters and serve with your favorite toppings, such as salsa, guacamole, or sour cream.
Variations:
Add a protein source, such as black beans or grilled chicken, to make the quesadillas more filling.
Use different types of cheese, such as pepper jack or feta, for a unique flavor.
Experiment with different veggies to find your family's favorite combination.
Recipe 4: No-Bake Energy Bites
If you're looking for a healthy snack that's easy to make and packed with nutrients, no-bake energy bites are a great choice! They're perfect for homeschooling families who need a quick and easy snack during the day.
Ingredients:
1 cup rolled oats
125 gm peanut butter (or any nut butter of your choice)
112 gm honey (or maple syrup for a vegan option)
125 gm mini chocolate chips (or raisins, chopped nuts, or shredded coconut)
62 gm chia seeds (optional)
1 teaspoon vanilla extract
Instructions:
In a large mixing bowl, combine all ingredients.
Mix well until all ingredients are evenly distributed.
Cover the bowl and refrigerate for 30 minutes.
After refrigerating, remove the bowl from the fridge and use a cookie scoop or spoon to form the mixture into small balls.
Place the balls on a baking sheet lined with parchment paper.
Cover the baking sheet and refrigerate for another 30 minutes to set.
Once set, remove the energy bites from the baking sheet and transfer to an airtight container.
Store in the fridge for up to one week or in the freezer for up to one month.
Variations:
Use different types of nut butter, such as almond or cashew butter, for a different flavor.
Experiment with different mix-ins, such as dried fruit or chopped nuts, for a unique twist.
Try adding spices like cinnamon or nutmeg for extra flavor.
Safety tips:
Use oven mitts when handling hot pans or griddles.
Make sure children are supervised while using the stove or other kitchen equipment.
Explain the dangers of hot surfaces and how to handle them safely.
Conclusion
Cooking with kids can be a fun and educational experience for home educating families. Not only does it provide an opportunity to teach valuable life skills, but it can also help improve children's confidence and creativity in the kitchen.
By following the simple and delicious recipes we've provided, you can easily incorporate cooking into your curriculum. From pancakes to veggie quesadillas, pizza bagels, and no-bake energy bites, these recipes are perfect for beginners and are sure to please even the pickiest eaters.
Remember to always prioritize safety when cooking with children. Make sure to supervise them closely and teach them the importance of kitchen safety, such as washing hands and using oven mitts.